Not only are we the ONLY skater owned skateboard shop in the Harrisburg area we are the premier force behind promoting skateboarding by running contests, setting up programs and giving lessons in the area. Do not be deceived by other's marketing ploys. We built the first vert ramp in the area, run the biggest contests, and were the first to bring longboarding to the area.
Simply put we know skateboarding and it's in our blood.
We are knowledgeable on all aspects of skateboarding, be it Longboarding, Park Skating or Street Skating. Our skateboard shop carries a variety of skateboard equipment for all aspects of skateboarding.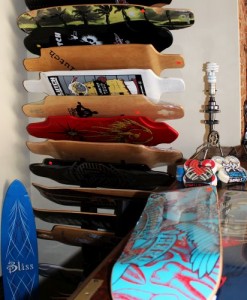 Clutch Longboards, Earthwing Skateboards, Bliss Longboards, Paris Trucks, Caliber Trucks,Paris, Sector 9, Comet, Independent Trucks, Phat Deanz wheels, Zoo York, Black Label, Creature, Abec, Retro wheels, Venom bushings and wheels, Bones, Spitfire, Real Skateboards, Almost, Enjoi, Plan B, Anti Hero,Mini Logo, Krptonics, Element,Spitfire wheels, MOB griptape and more.
list of community involvement and accomplishments:
Camp Shikellimy YMCA skate Camp
Camp Lohikan Skateboard Summer 
Numerous Contests; Concrete Carnage at Reid Menzer skatepark, Old-School street contest in Harrisburg just to name a few.